Modern Slavery Statistics & Best Practices for Compliance
Across the globe, it's estimated that a staggering 40.3 million people were forced into modern slavery as of 2016. Chances are that number has only climbed, which is why regulations such as the Australia and the UK's Modern Slavery Act have been introduced to confront the issue head-on. The Acts requires organizations with at least £36m (UK) and $100m revenue to publish an annual modern slavery statement outlining their structure, operations, and supply chains and the risks of modern slavery practices therein.
Why Slavery Is Still a Problem?
According to research from Hult International Business School, the majority of companies – 71% – believe that modern slavery likely takes place somewhere within their supply chain. And, nearly three-quarters of FTSE 100 companies are coming up short in terms of MSA compliance. Most are scored poorly on their anti-slavery practices, including assessments and due diligence.
Clearly, there's more work to be done. The companies that begin making greater strides to abolish modern slavery will fare better not only in terms of compliance, but also in showcasing their commitment to ethical practices.
Which Nations Are Most At Risk for Having Slavery in Their Supply Chains?
Many companies in G20 nations are at risk of having slavery in their supply chains. According to the Global Slavery Index, $354b at-risk products are imported by G20 countries. The U.S. is overwhelmingly the largest importer of at-risk products, representing $144b. The UK and Australia come in fourth and eighth, accounting for $18b and $12b of at-risk imports respectively.
Despite these significant risks, only 35% of organizations have conducted an internal risk assessment to determine vulnerabilities in their operations and supply chain. Understanding which products and links in your supply chain pose the greatest threats is critical to ensuring compliance.
Which Products Pose the Greatest Modern Slavery Risks?
The top products at risk of being produced by modern slavery vary from one nation to another. On a global scale, however, the following items pose the greatest risk:
Electronics, including laptops, desktop computers, and mobile phones
Clothing
Fish
Cocoa
Sugarcane
Other at-risk imports include natural resources such as gold, diamonds, coal, and timber, as well as food such as nuts and rice.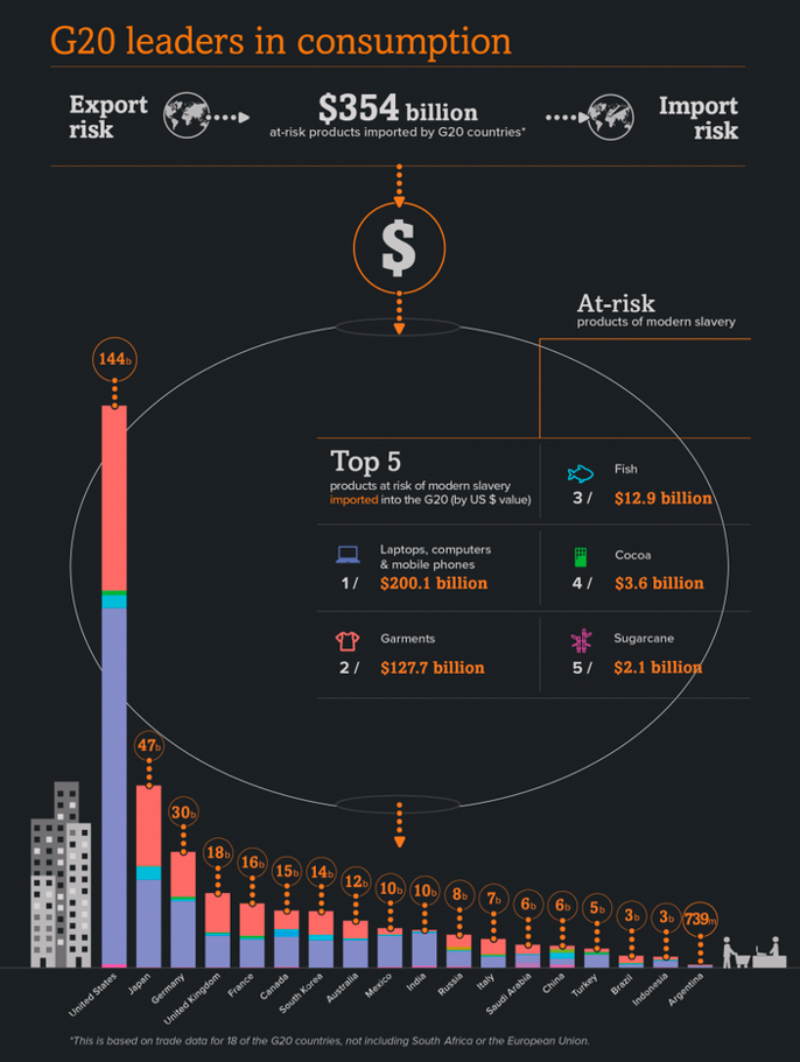 What Can Your Organization Do to Tackle Modern Slavery?
Fortunately, some nations have already put strong policies, such as the MSA, in place to combat modern slavery. The UK, Netherlands, and U.S. are among the countries with the strongest response. Yet, as the Global Slavery Index points out, even many of the countries that have established a strong political will to confront modern slavery "have not matched good policy with effective enforcement." At the national level, stronger follow-through will be essential to freeing people from modern slavery across the globe.
For now, it's up to individual companies to begin taking a close look into their practices to assess for modern slavery risks. Once weaknesses have been identified, companies must perform supplier due diligence, maintaining consistent lines of communication with their suppliers to ensure compliance. A strong defense against modern slavery will also call for a thorough assessment of existing policies. For instance, organizations should ask themselves:
Are clear policies in place to promote ethical trading and treatment of workers?
What else can we do to eliminate risks of modern slavery?
How are policies actually being enforced?
Do policies cascade down through the supply chain to mitigate risks at every level?
Thereafter, implementation of best practices, including thorough staff training, will help to control risks and maintain a powerful stance against modern slavery.
Of course, identifying and managing risks both internally and via your supply chain is no simple feat. CENTRL uses automated workflows, grading scales, and an easy-to-use supplier portal to help you identify supplier and operational risks quickly and accurately. And, you can get a 1:1 demo to show you how to deploy same at your organization, here.