Live Webinar - Dec 8, 10:30 AM (AEST)
Keys to Evaluating Your Supplier Risks
Under Australia's Modern Slavery Act (MSA)
Join the webinar
Modern Slavery Act Compliance Platform - MSA360
CENTRL's Modern Slavery Act Compliance Platform (MSA360) is a one-stop solution for complying with the Modern Slavery Act. MSA360 provides the necessary policy and report templates, management dashboards, and fully automated capabilities for assessing and managing risks with internal operations and suppliers. With little setup required, it can be implemented quickly in any business.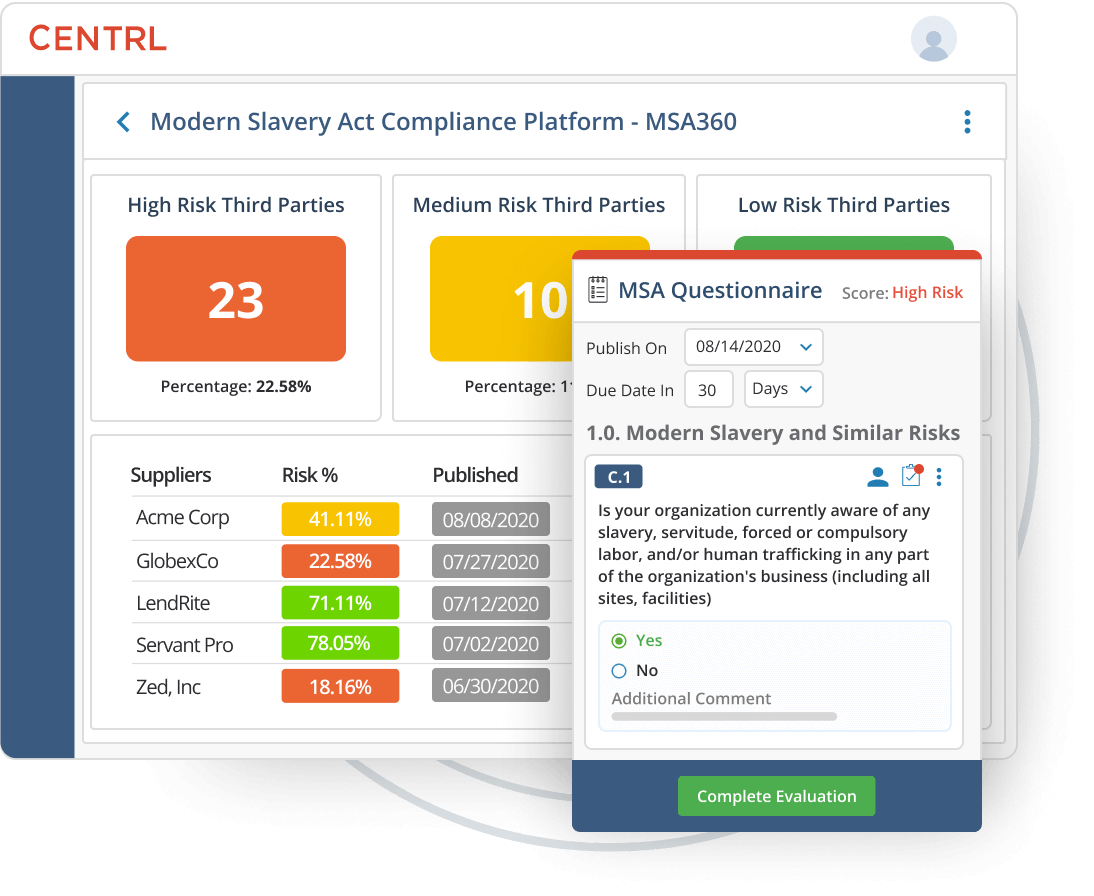 Why use a Modern Slavery Act Compliance Platform?
Quickly and accurately identify supplier & operational risks
Use automated workflows, pre-built assessment templates, grading scales and supplier portal to quickly identify risks, report on KPIs and manage issues.
Use pre-built policy and report templates
To build your compliance program quickly, then customizing it to your needs. Ensuring completeness of your program with our intuitive checklist.
Implement quickly, cost-effectively and operate at scale
As a SaaS solution, MSA360 is very cost-effective, can be implemented in days and designed to operate at scale. Once implemented, it automates the ongoing annual assessment cycle.
Modern Slavery Act Compliance Platform - MSA360
CENTRL's Modern Slavery Act Compliance Platform (MSA360) automates the current manual risk mitigation processes most companies use, providing a one-stop solution for MSA Compliance.
Modern Slavery Act Requirements
Risk Identification: Risks of modern slavery practices in operations and supply chains.
Risk Assessments and Remediations: Actions taken to assess and address modern slavery risks, including due diligence and remediation processes.
Key Performance Indicators: Explain process for assessment of effectiveness of actions taken to assess and address modern slavery risks.
Easy MSA Compliance with CENTRL
Automated platform for assessing modern slavery risk in operations and suppliers
Pre-built assessment templates & grading scale
Automated scoring to generate risk KPIs
Full workflow to track issue status and remediation
Pre-built policy templates
Pre-built reporting templates
Solution can be deployed in as little as 2-3 days
Implement system in days with no IT investment
Leverage Pre-Built Modern Slavery Act Templates & Workflows
Simplified risk assessment with pre-built templates for Modern Slavery Compliance
Easy-to-use questionnaire editor for quick and simple modifications
Bulk publishing assessments for hundreds of suppliers at once, or scheduling for future dates
Automated year-over-year changes through pre-populated responses from prior years
Dynamic dashboards to track completion status
Automated reminders to suppliers for seamless follow-ups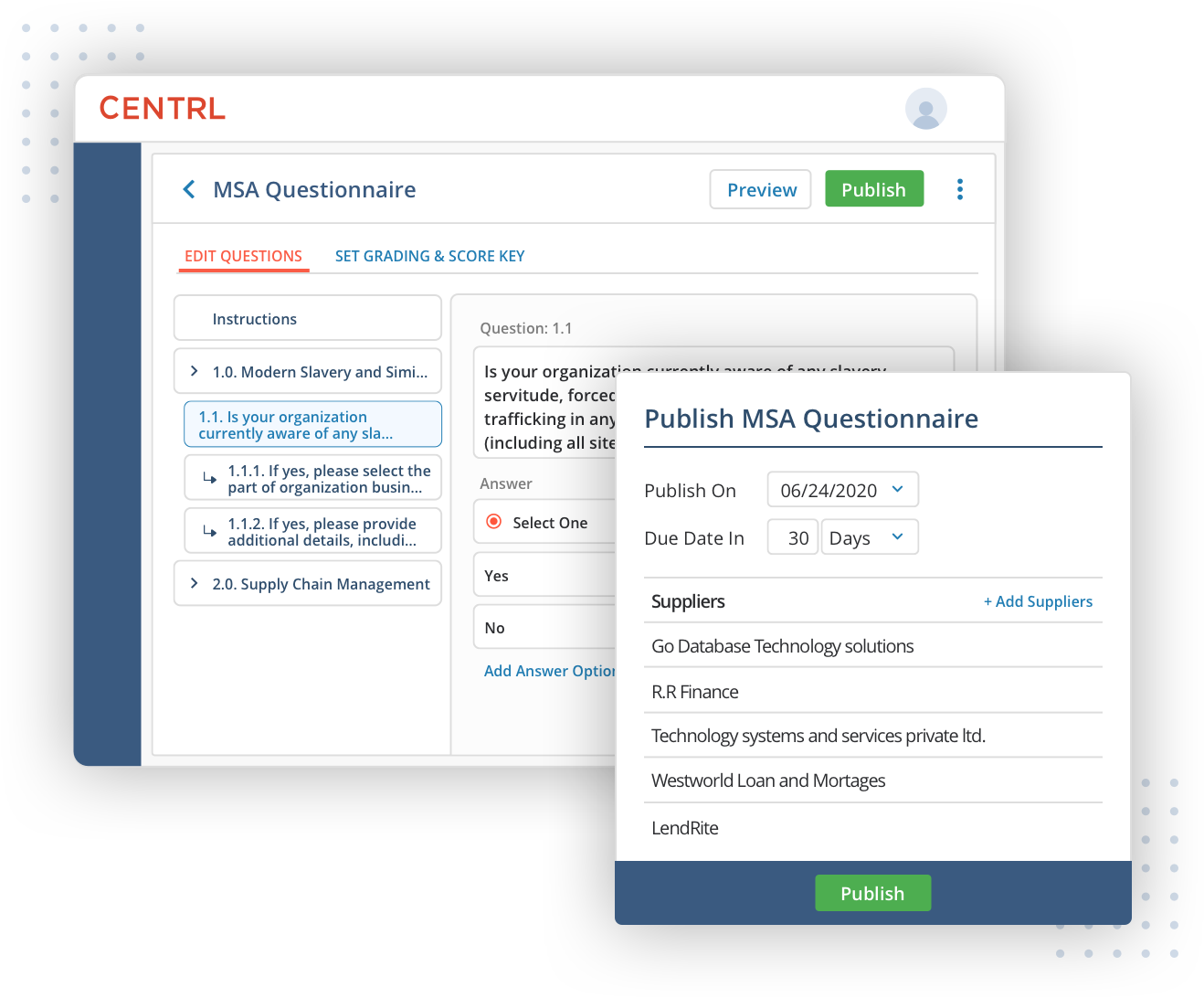 Auto-Score Supplier Responses & Build Risk Map
Pre-built grading scale designed for Modern Slavery risk assessment
Automatic grading for all multiple choice and Y/N answers
Centralized repository of all evidence documents
Full audit trail of all actions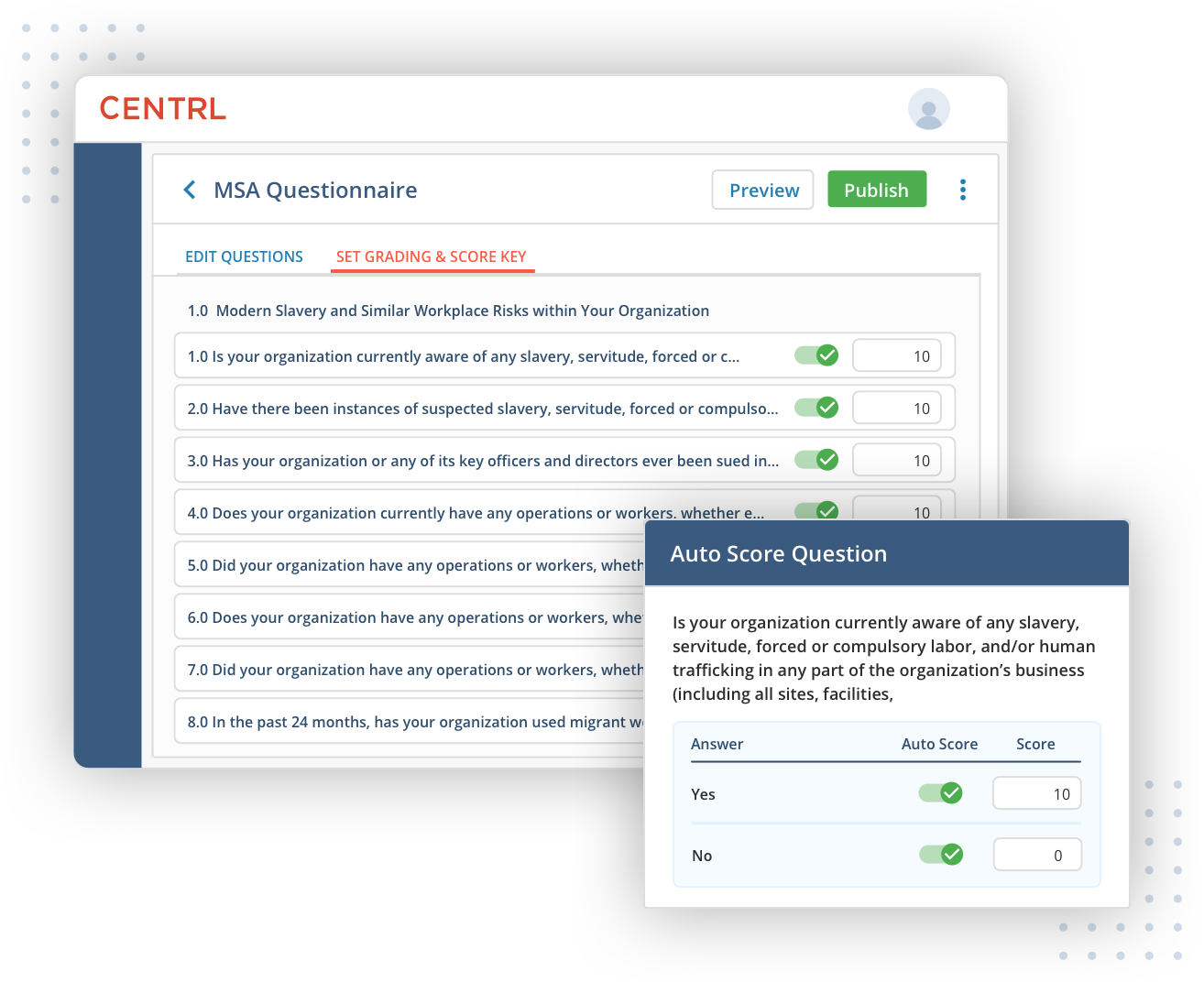 Identify Key Gaps & Manage Remediation
Precise identification of issues based on supplier responses
Severity ratings for each issue & suggested remediation plans
Progress and remediation tracking for compliance-driven follow-through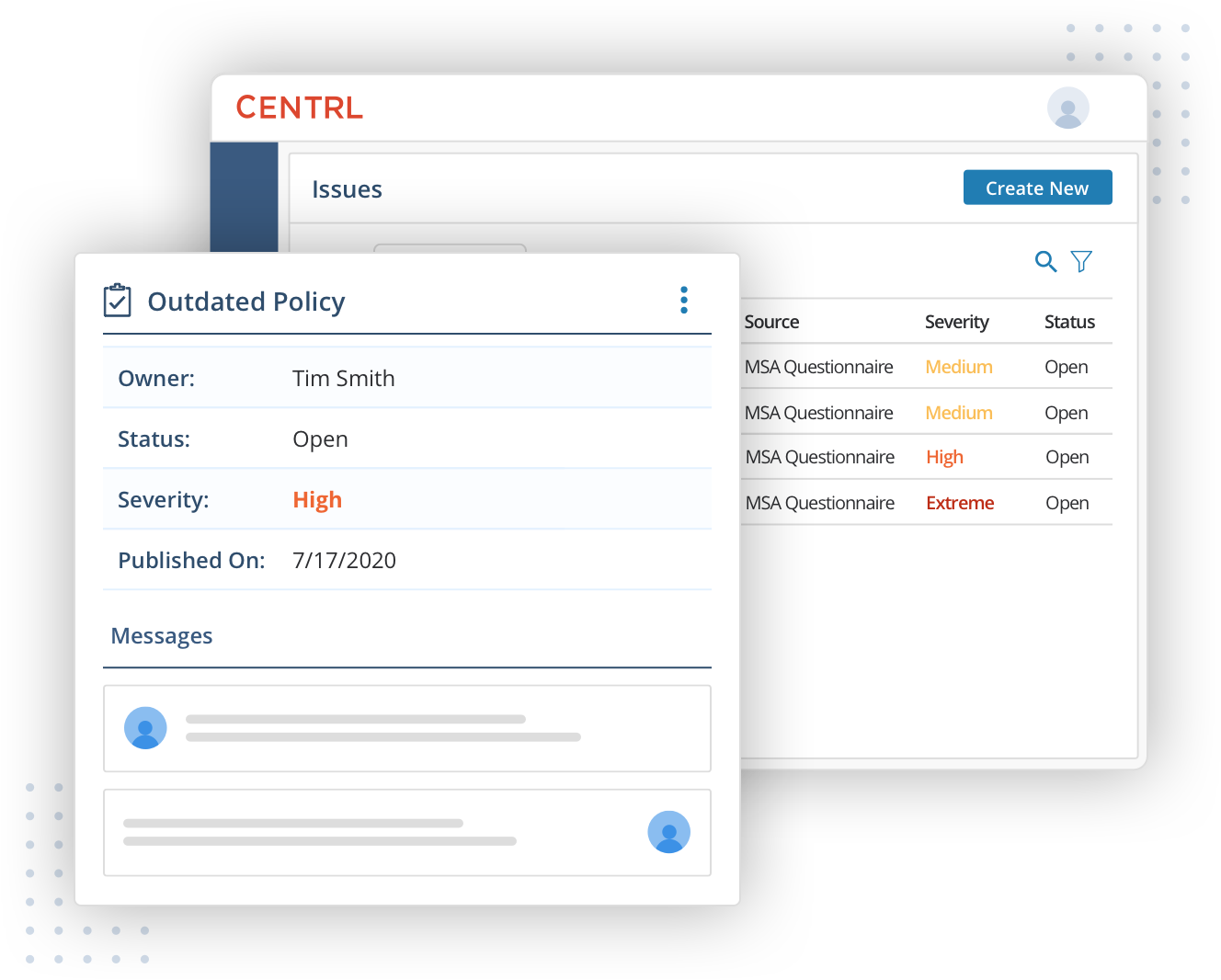 Auto-Generate Compliance Reports & Dashboards
Pre-built dashboards for modern slavery KPIs
Supplier risk scores organized by criticality and other dimensions
Cross-supplier scores
Drill-down capability to see details
Auto-generated formatted reports for internal and external audiences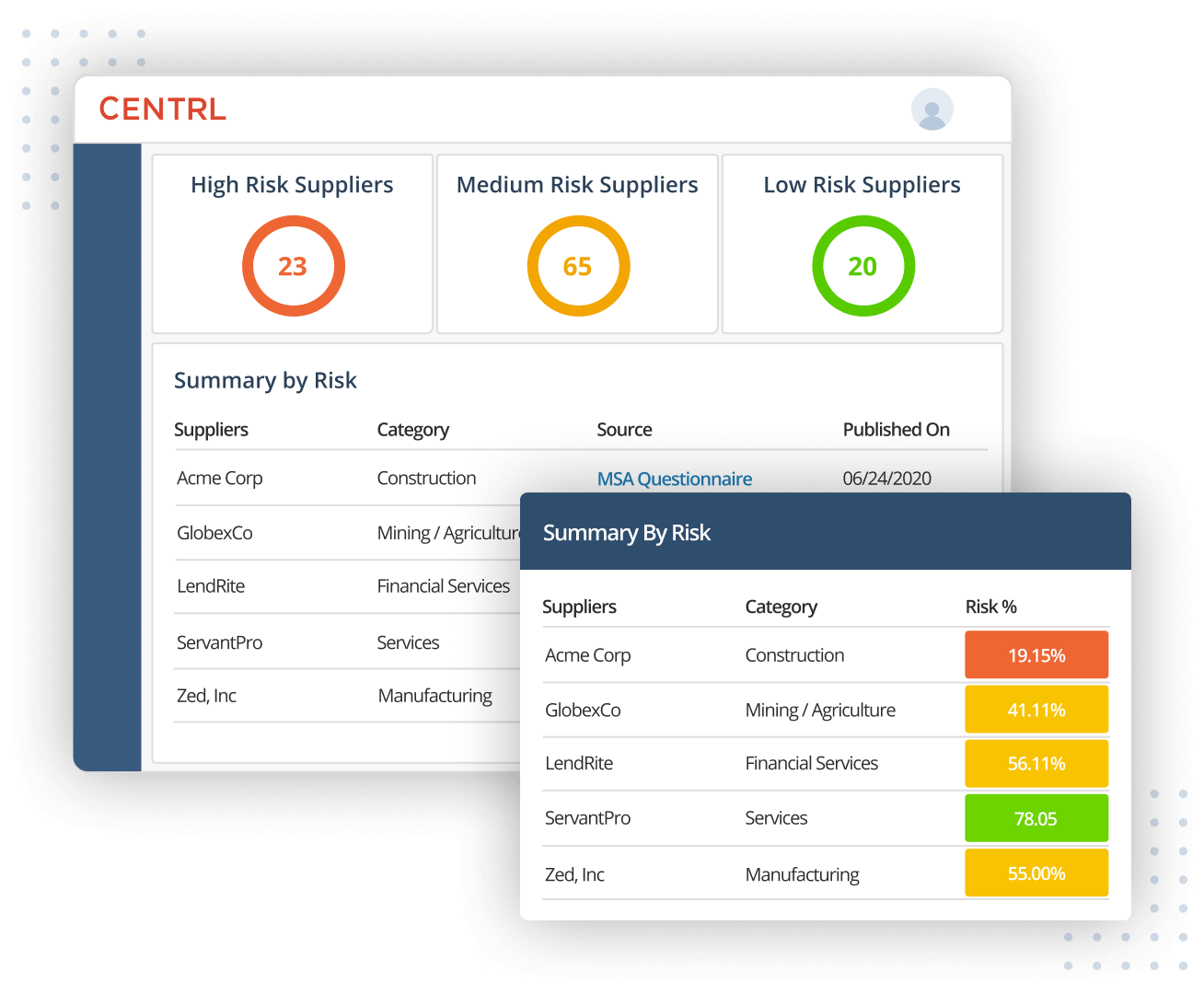 Pre-built Policy & Reporting Templates
Pre-built templates for MS Privacy Statement
Access to MS Compliance checklist
Use templates for other policies such as Code of Conduct, Employee training, and more
Generate automated executive report for review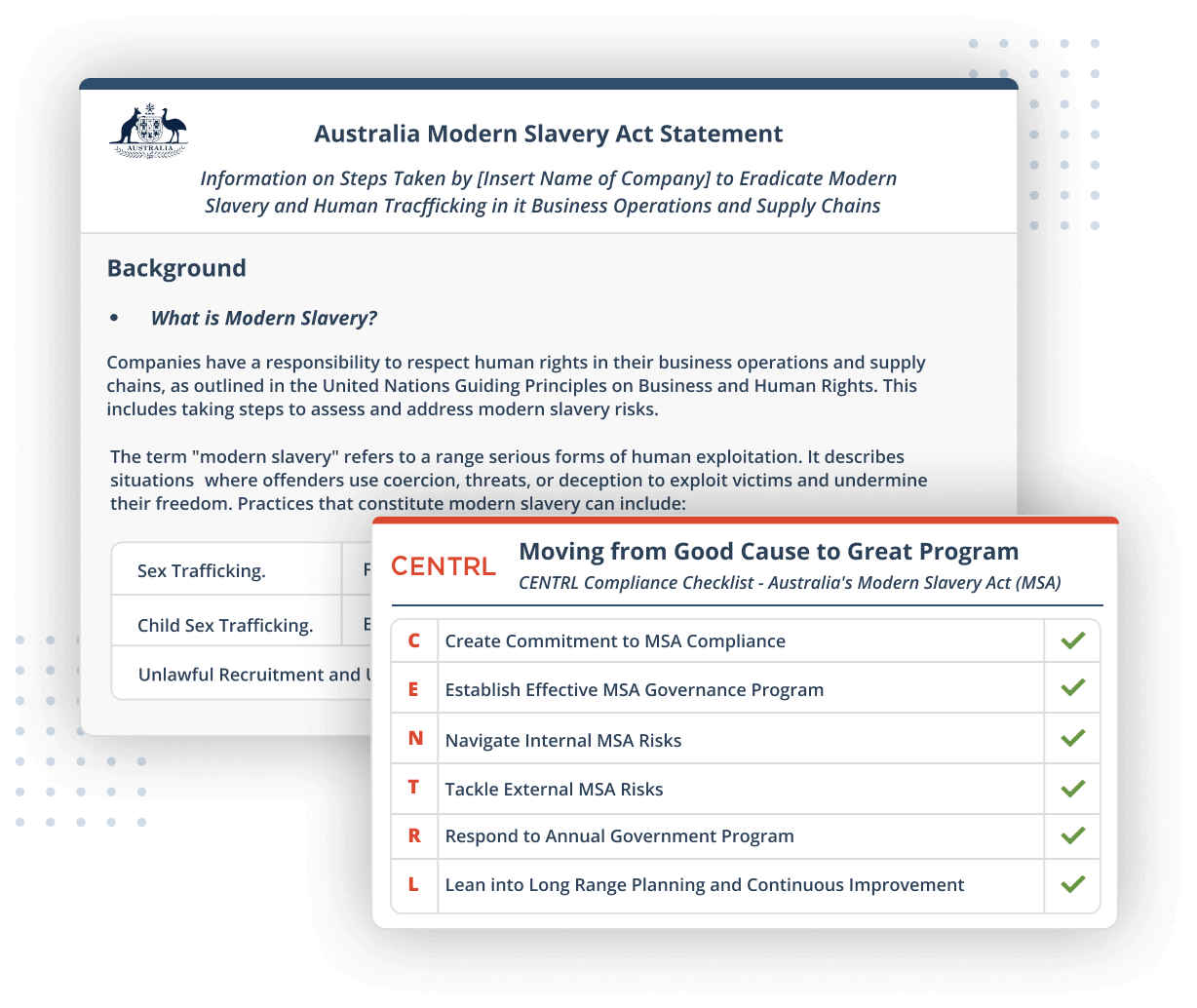 Provide Suppliers with Easy-to-Use Portal to Respond
Easy-to-use portal for suppliers to respond to questionnaire
Simple steps for uploading documents, reviewing answers, and submitting
No need for complete revisions — suppliers only respond to changes from year-to-year
Options for suppliers to internally delegate questions as needed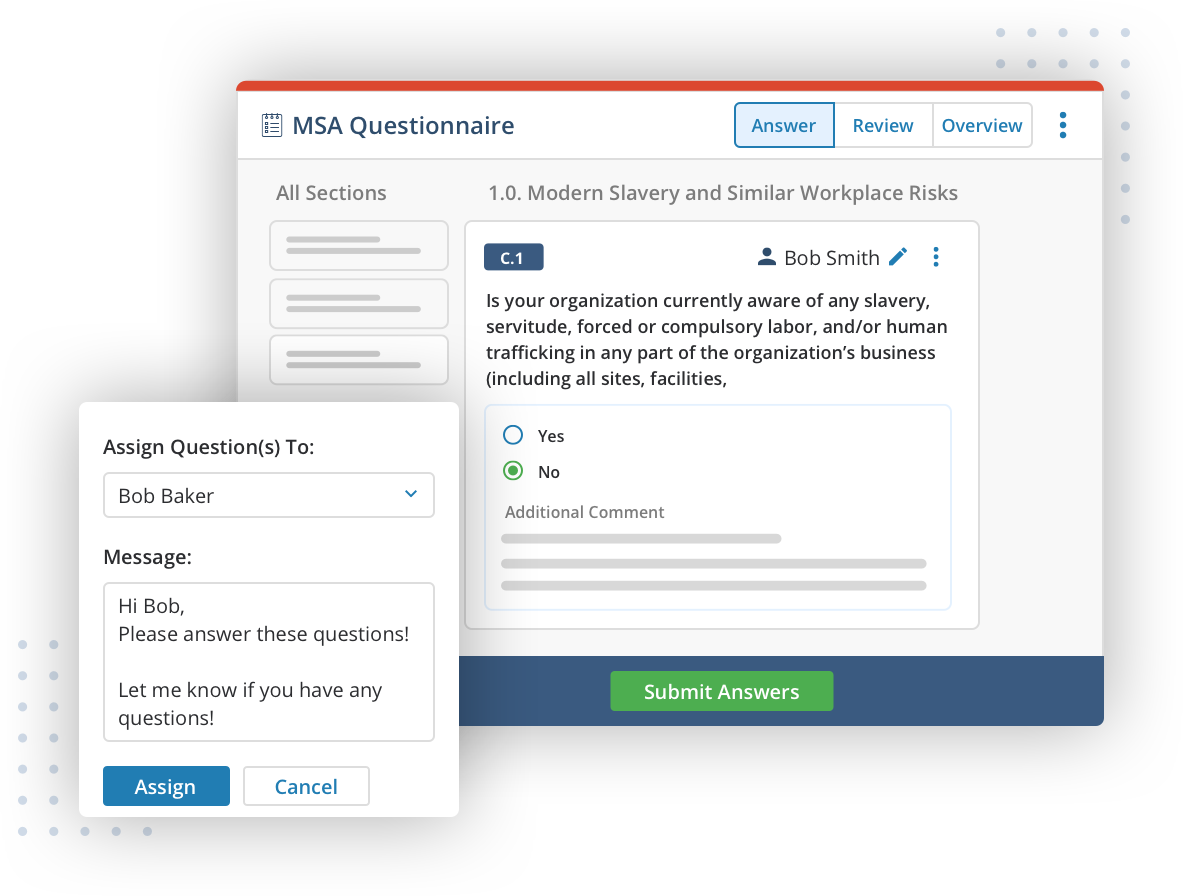 Easy Upgrade to Full Vendor Risk Module
If needed, upgrade to full Vendor Risk Module
Use range of additional Assessment templates such as for Vendor risk, ESG, NIST and ISO
Manage full vendor directory & centralize documents
Manage complete vendor life cycle from onboarding, inherent risk assessments, self-assessments, on-site audits to managing issues and remediation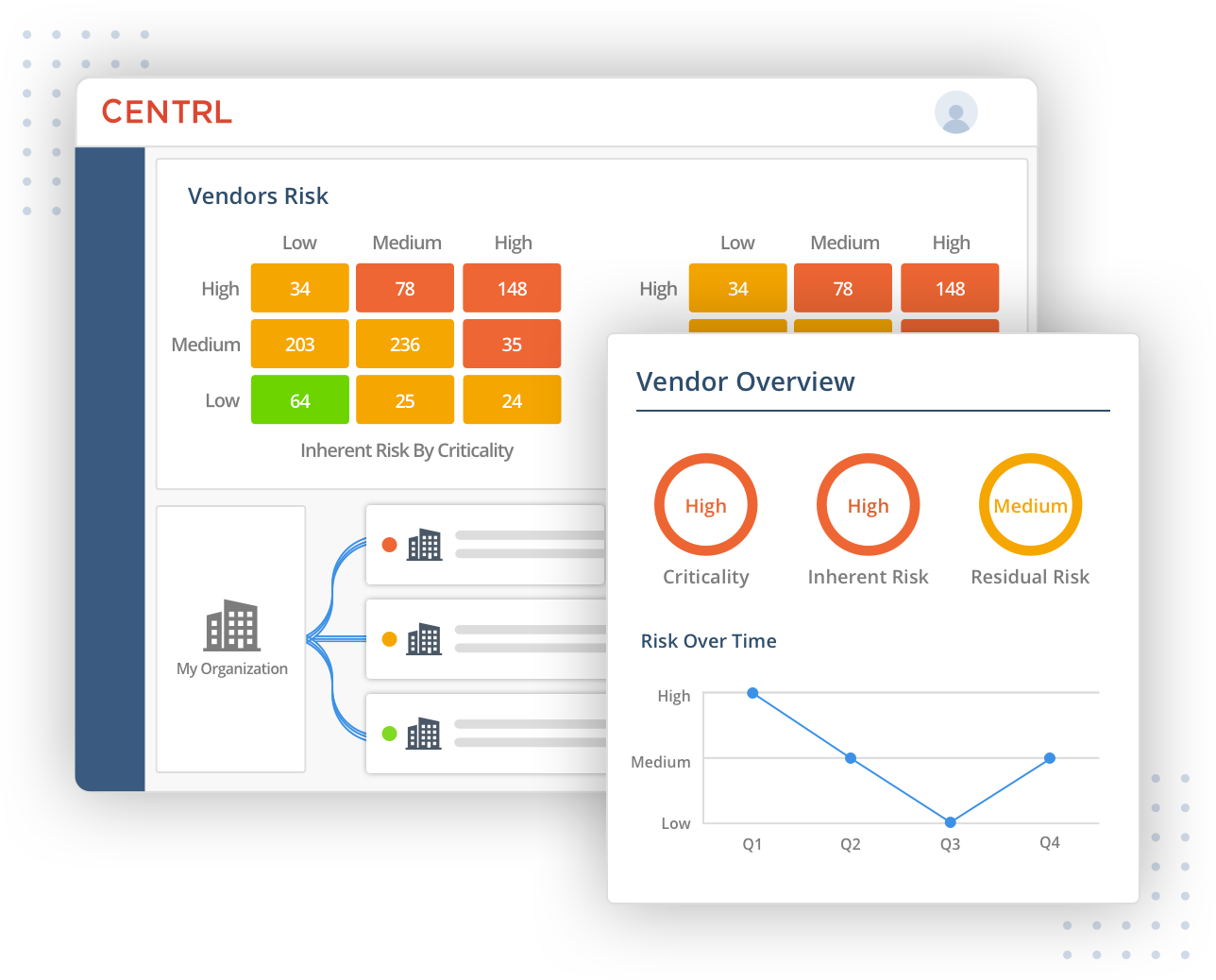 Australia's Modern Slavery Act - Key Obligation and Important Dates
Reporting period
Original deadline for submission of modern slavery statement
New extended deadline for submission of modern slavery statement
April 1, 2019 - March 31, 2020 (Foreign Financial Year)
September 30, 2020
December 31, 2020
July 1, 2019 - June 30, 2020 (Australian Financial Year)
December 31, 2020
March 31, 2021
Reporting periods ending after June 30, 2020.
The six-month deadline for reporting periods ending after June 30, 2020 remains unchanged.
Consequences of Non-compliance
The Australian government has the power to publicly name entities that fail to comply and can require noncompliant entities to take remedial action to ensure compliance, including requiring an entity to provide or revise a statement.