Great Resources for the Financial Services Industry to Identify and Address Modern Slavery
As a financial institution, you know that keeping your business's practices on the up and up is a vital task and not always as straightforward in practice as in theory.
Take, for example, Australia's Modern Slavery Act. This legislation – along with similar acts in other countries—requires entities based or operating, in Australia, which has annual revenue of more than $100 million, to report annually on the risks of modern slavery in their operations and supply chains, and the actions they have taken to address those risks. But compliance with the MSA is not exactly the easiest thing to figure out. The pieces of this complex puzzle vary depending on your institution.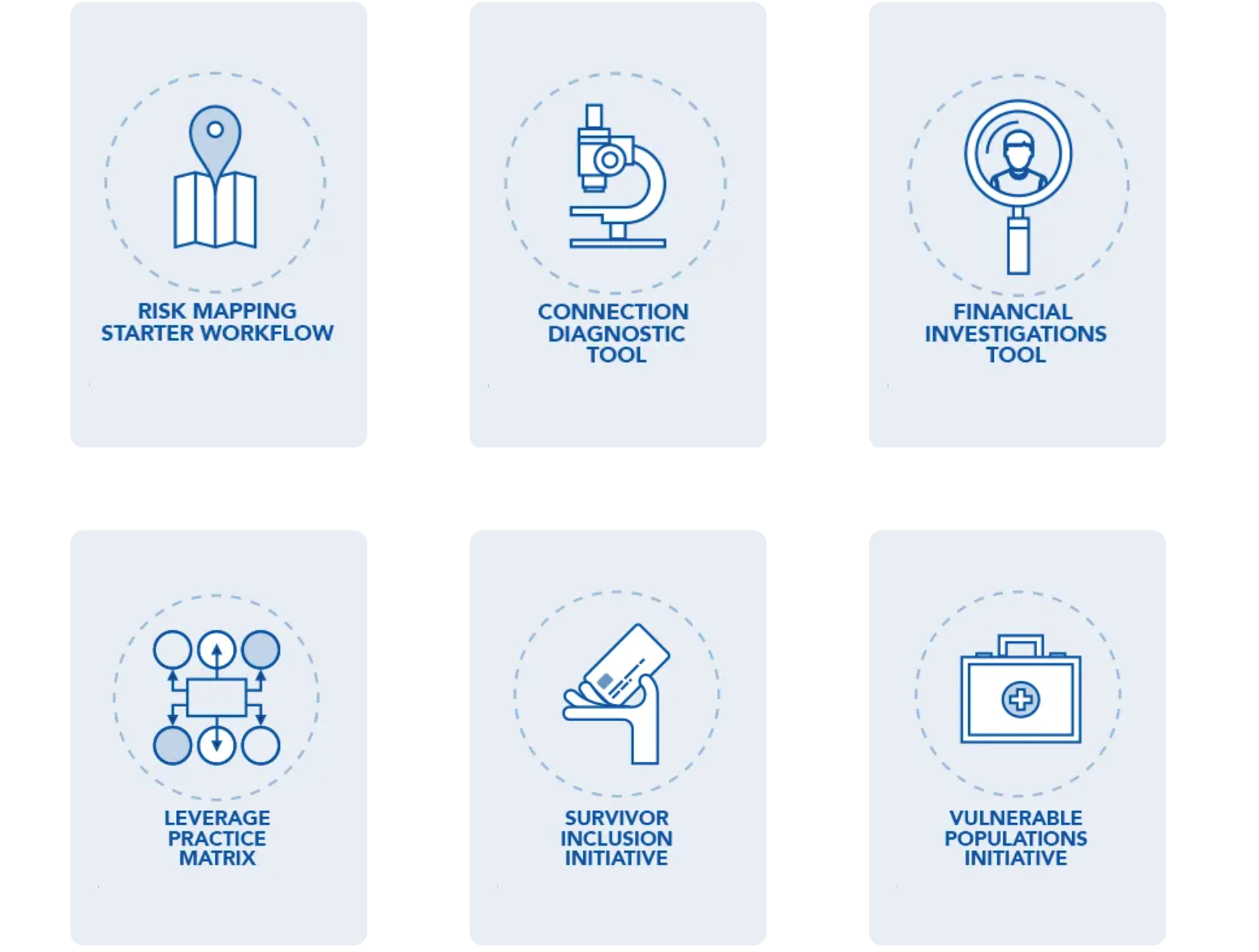 These images from the FAST Initiative website represent just some of their useful tools
That's why we've taken the lead in bringing you a round-up of handy tools and resources from our partners at the Finance Against Slavery and Trafficking Initiative (based at the United Nations University Centre for Policy Research), which are specifically geared towards helping financial institutions tackle modern slavery. We hope these resources will help your business to better understand, identify, and address its relationship to modern slavery.
Let's get started.
Are you interested in combating modern slavery in your workplace, but find yourself thinking, "If only there was a blueprint to help me better understand this issue?" Well, fortunately for you, there is! In 2019, The FAST Initiative came out with the FAST Blueprint, complete with what is essentially a roadmap to tackling the multi-faceted issue of modern slavery.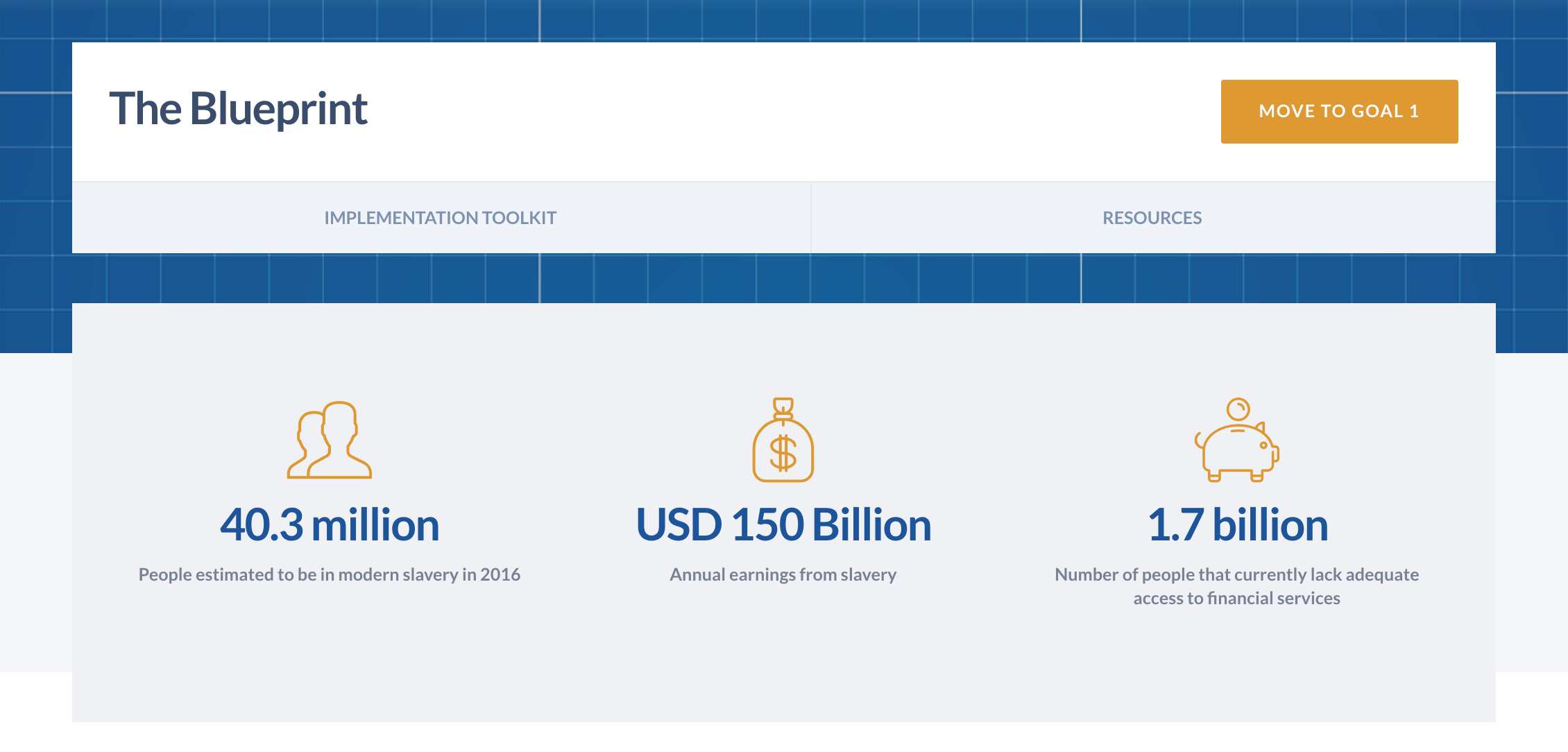 Some helpful stats on The Blueprint
It is available as a downloadable PDF and breaks down every aspect of modern slavery, from an outlining of the issue to a goal-oriented solution toolkit specifically formulated for the financial sector.
Learn more about the FAST Blueprint, and download the PDF guide and toolkit here.
Right, so now you have the blueprint on how to diagnose modern slavery in your financial setting. But you're still a bit confused as to how to apply some of these ideas to your particular company or institution. No problem at all! FAST has a handy Risk Mapping Tool to apply some of the abstract concepts in the toolkit to your specific situation.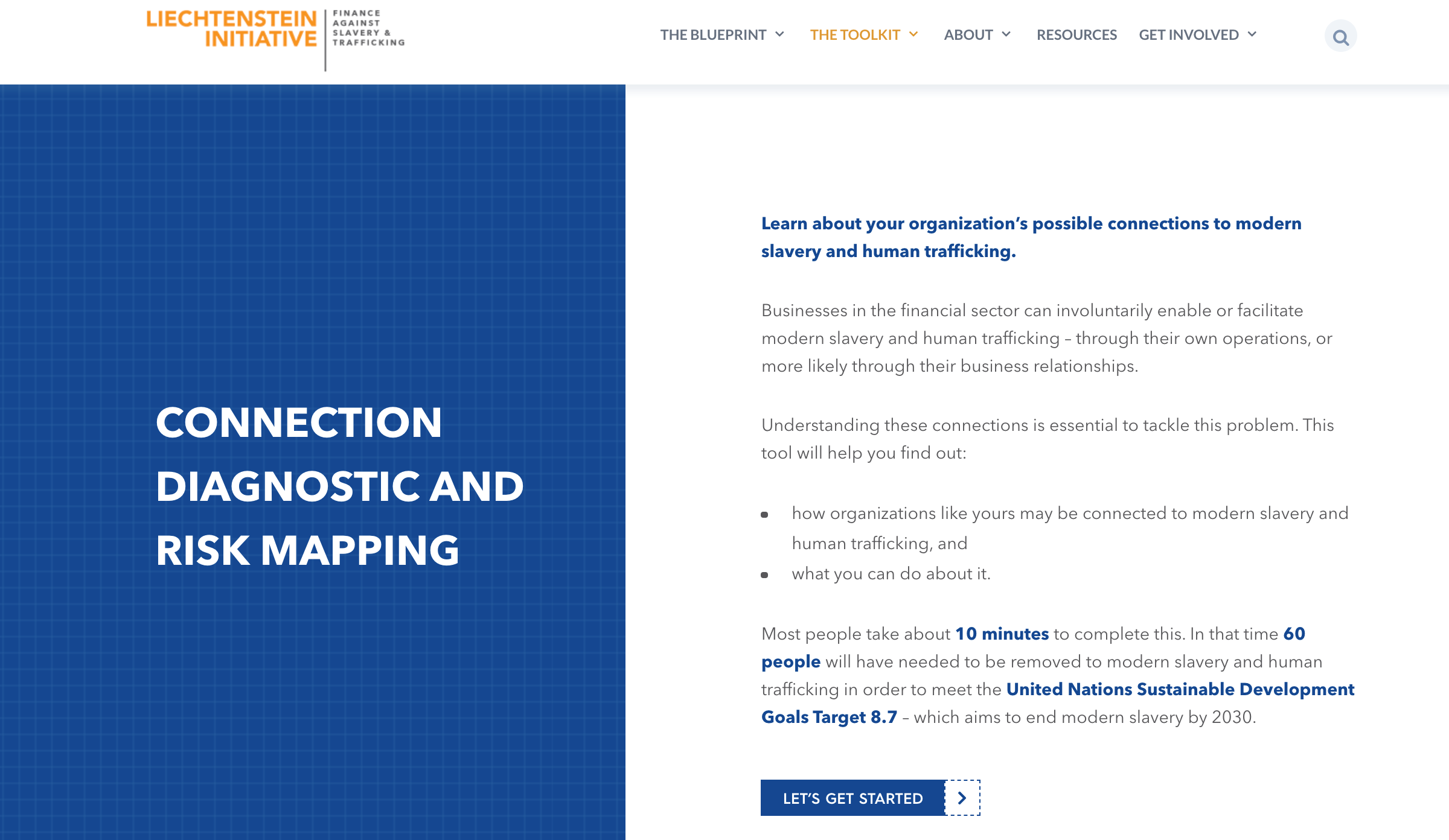 The Risk Mapping Tool in action
The assessment only takes about 10 minutes and helps you identify the "high scale risks" of modern slavery and human trafficking in your business. This assessment can supply your institution with vital insights in where instances of modern slavery might be hiding in your supply chain, as well as how to tackle the issue as a whole.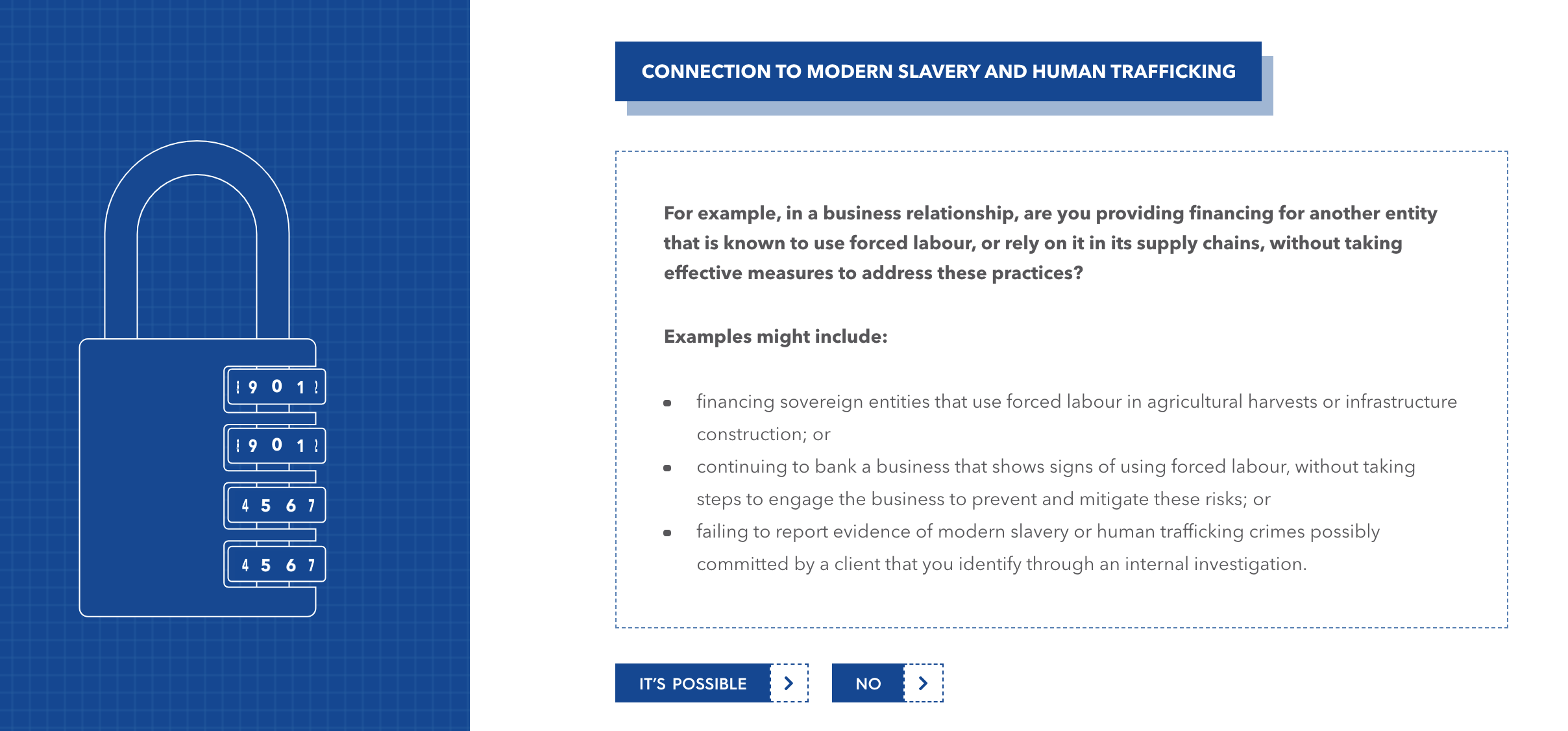 An example of the type of information explored in the Risk Mapping Tool
Take the assessment here.
3. The FAST ACAMS Fighting Modern Slavery and Human Trafficking Certificate
Listen up, Compliance Officers, Risk Managers, Technology Officers, Industry Consultants, ESG specialists, or any other part of an interesting financial institution. FAST has teamed up with the Association of Certified Anti-Money Laundering Specialists to create the Fighting Modern Slavery and Human Trafficking Certificate. This free, self-paced online training course aims to raise awareness about the financial footprints left by modern slavery and human trafficking and provides a framework to help mitigate and remedy these risks through the use of video lessons, written materials, and periodic comprehension checks.
Financial institutions can nominate one or more parties within their ranks to become certified experts on the subject matter in the certificate. They can then share their knowledge with the rest of their relevant workforce.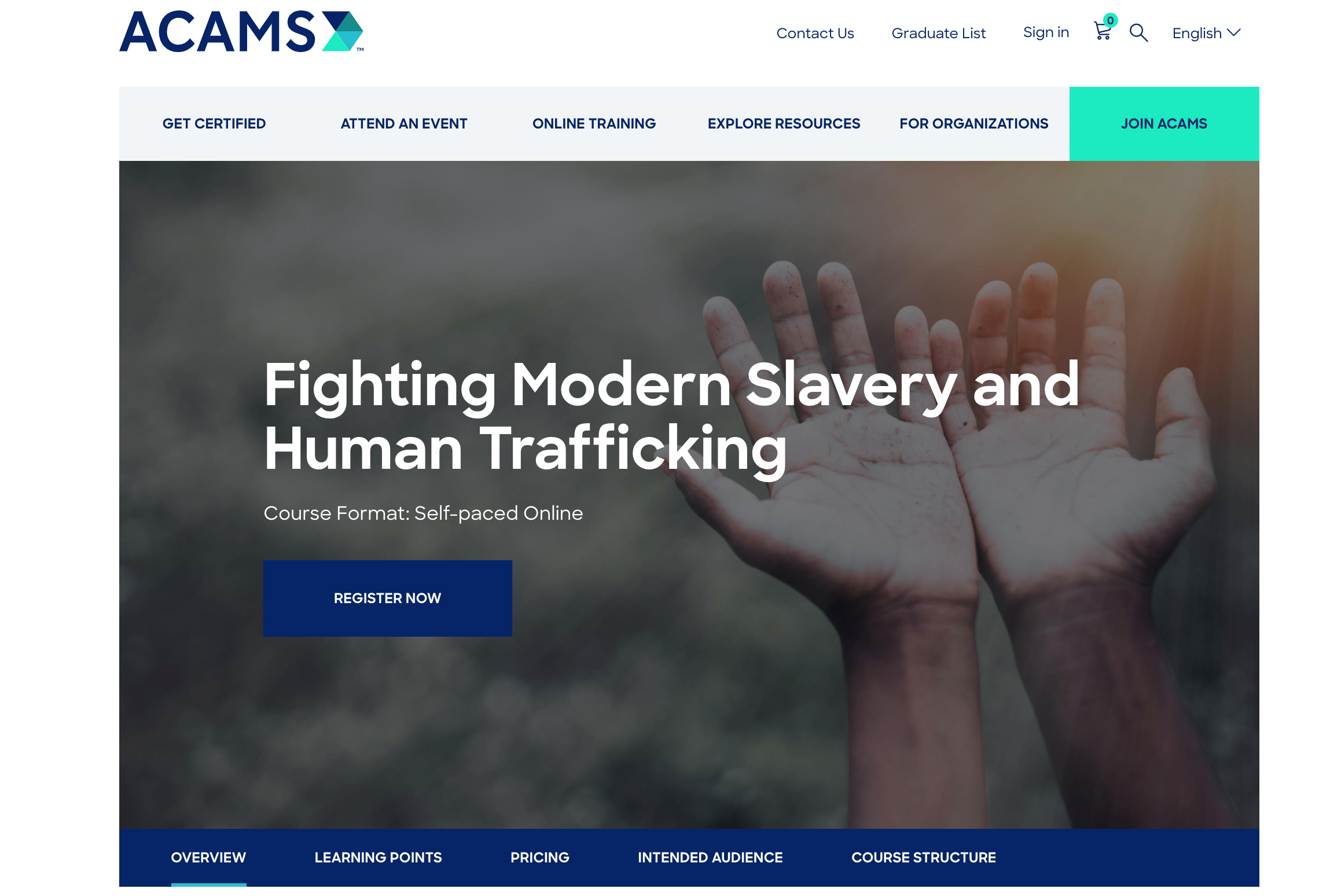 The Fighting Modern Slavery and Human Trafficking homepage, featuring all relevant information for taking a deep-dive into this topic
Learn more about it here.
Do you have a long commute, or do you like having something educational in the background as you go about your day? Are you an auditory learner or a podcast junkie? Then we've got just the resource for you! FAST: The Podcast is an ongoing series exploring "the connections between global finance and modern slavery and human trafficking." This information-driven podcast provides valuable insights into the links between the international financial industry and the fight against modern slavery.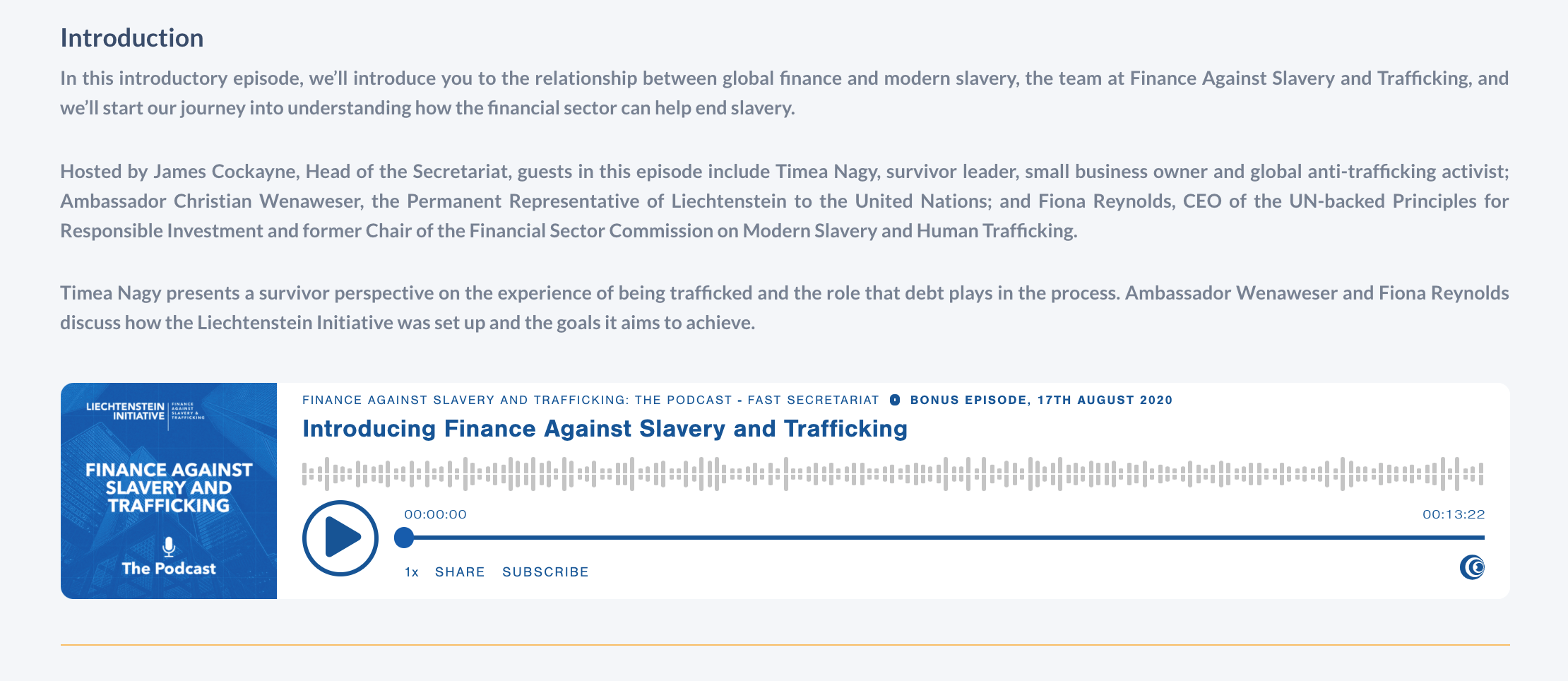 Find this podcast on the FAST Resources Page or linked above
Hosted by the FAST Head of the Secretariat, James Cockayne, FAST: The Podcast explores how the profits from forced labour and modern slavery find their way into the financial system, what financial institutions are doing to stop this, and how the financial sector can empower survivors of modern slavery. There are currently 5 episodes of the podcast available to download, with more coming periodically in 2021. Together, these episodes are sure to help you take stock of how this issue relates to your company, as well as the financial industry as a whole.
Search for "Finance Against Slavery and Trafficking: The Podcast" wherever you get your podcasts or access on the FAST Resources page here.
In Conclusion:
We've listed some, but not all, of the great resources and tools that FAST has to offer to help you identify and address modern slavery risks in your organization. If time permits, feel free to check out resources like the Survivor Inclusion Initiative, which brings together financial institutions and survivor support organizations to facilitate survivor access to basic banking services. Or better yet, take a look at the FAST Resources page—the Additional Resources menu at the bottom of the page includes a directory of reports and articles related to modern slavery and human trafficking, divided by interest area.

Steps to help combat modern slavery wherever it hides
No matter your business size or strategy, we hope these resources will help you identify and address the issue of modern slavery in your company's practices.
Only by working together can we get to the United Nation's goal of ending global modern slavery by 2030 (Target 8.7).